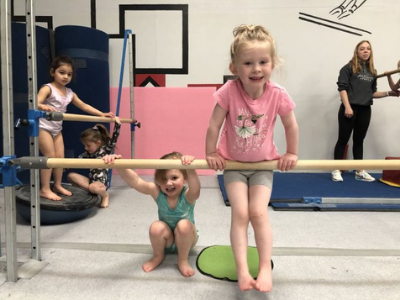 5 & Under Recreation Classes 
Our 5 and under recreation classes meet for 50 minutes weekly introducing young gymnasts to bars, beam, floor, and tumble tramp. Our qualified instructors aim to teach skill progression and technique using fun stations and themes that change weekly. In addition to gymnastics, we strive to equip young children with coordination, balance, agility, strength, flexibility, reaction time, tracking, and general life skills that will benefit them in other academic and athletic pursuits throughout their lives in a fun, safe, and caring environment.
6 & Over Recreation Classes

Our 1-hour recreation classes are for gymnasts ages 6 and over. For girls, we offer classes for beginner through advanced gymnasts. Our experienced instructors follow a weekly lesson plan that introduces girls to skills and drills on vault, bars, beam, floor, and tumble tramp. For boys, we offer Boys Sports Development. This class also follows a weekly lesson plan helping boys develop individual strength and coordination needed in all sports.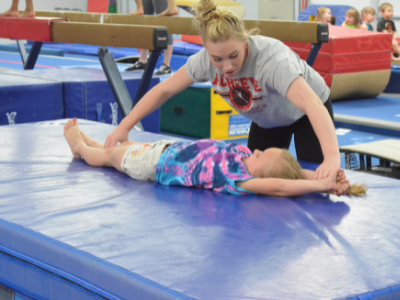 Recreation Class Registration
Recreation class registration can be done at our front desk, or over the phone or online. We offer 6 8-week sessions a year with priority registration given to participants in their current class.
RECREATION NEWSLETTERS
The Recreation Buzz is our newsletter with important information and happenings in our 5 and under and recreation class program. Look for important dates, announcements, and events each session!
Class Structure & Philosophy
Our recreation program serves as a starting point for young athletes looking to improve their overall strength, flexibility, and coordination. We believe in working with every kid at their level and helping them improve and reach their potential in our program as well as give them confidence and tools to help them succeed in all areas of their life.
Compulsories
We offer 3 levels of competitive compulsory gymnastics: Compulsory 2, 3 & 4. Each level increases with difficulty offering a progressive recreational program that will meet the needs of beginning through intermediate competitors while providing a fun, structured, and enriching competitive experience.
Optionals

Our optional program offers 5 levels of recreationally competitive gymnastics for the intermediate through advanced level gymnast. Optional gymnasts perform personalized routines based on their level and experience. Our optional program strives to equip gymnasts with gymnastics and life skills to be strong, confident, healthy young women.
TEAM STRUCTURE & PHILOSOPHY
We strive to provide a program that is based on consistency, high expectations, inclusion, and fun. We want everyone at Achieve Gymnastics to realize and reach their potential, and we strive to help each girl on her individual journey.
TEAM NEWSLETTERS
Our monthly team newsletter will provide all the necessary information for what is happening on our team. You can find important dates, upcoming events, helpful hints, and much more!
TEAM RESOURCES
In team resources you will find our compulsory routine videos, our team handbook, and injury prevention information for our current team members. We continue to add resources that will benefit our gymnasts and families!
gymnastics
camps & Clinics
Recreation Camps & Clinics
We offer recreational clinics and camps for gymnasts wanting to advance their skills in addition to their weekly class. Gymnasts spend 1 hour in each recreation clinic working specific skills on two different events. Our enthusiastic coaches spend time breaking down skills and giving gymnasts the opportunity for more repetition of skills and drills. Summer camps are a fun filled week of gymnastics, games, crafts, and fun! We offer camps for gymnasts ages 5 and up.
Team Camps & Clinics

We offer clinics and camps for our team gymnasts wanting to advance and improve their skills and routines throughout the year. Our coaches spend time breaking down skills and giving gymnasts the opportunity for more repetition of skills and routines. Summer team camps are a fun filled week of working next-level gymnastics skills and drills as well as games, crafts, and fun! We also offer tryout camps for gymnasts wanting to work skills and coaching that will help them with tryouts for the next level.
POLICIES & PROCEDURES
Our policies and procedures are in place for the safety, benefit and enjoyment of all participants and their families at Achieve. Please familiarize yourself with these to help make Achieve Sports a fun, safe and welcoming community for all!