5 & under
RECREATION Classes
bumble bees
Walking – Age 3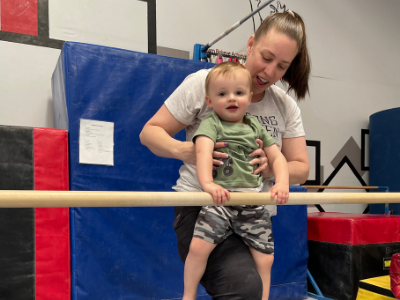 Bumble bees
As the most influential person in a child's life, we feel the best way to help your kids grow and develop is for parents to play an active part. This parent-tot class is perfect for kids, who are walking through age 3, wanting to participate in their first class experience, or who may be a little hesitant to join a class without Mom or Dad. Bumble Bees classes follow weekly lesson themes which incorporate a structured approach to learning. Instructors set up a variety of stations on each event to teach basic gymnastics positions and skills, while providing an environment full of fun and excitement. This class has an 8:1 ratio of athletes to instructors.
butterflies
Our Butterflies class is the perfect transition to help your child get ready for preschool or act as additional enrichment for 3 and 4-year-olds already in a preschool program. If your child is 3, we STRONGLY recommend that you take at least one session of our Bumble Bees class with your child to help them become comfortable with our gym, our staff, and how a class setting works, especially if they have not yet attended school or daycare. Our teaching approach for this class is a combination of whole-group teaching as well as circuit learning through strategically developed lesson plans with weekly themes. This class has a lower student-teacher ratio of 7:1, and a slower pace than the Bumble Bees class to help your child adjust to being in a "big kid class" without Mom or Dad.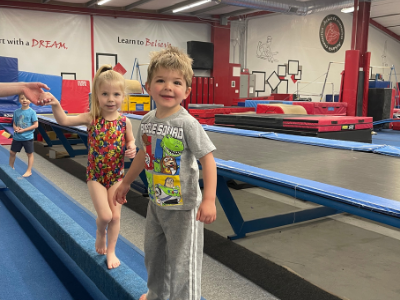 Dragonflies
One of the many benefits of gymnastics is how the sport can teach the athletic foundation needed for all other sports. Dragonflies is the perfect class for this. While we recognize children this age are now able to sign up for many other activities, we strongly believe gymnastics provides a more well-rounded approach to physical development, coordination, balance, agility, strength, reaction time and tracking (a skill that helps with reading) than most other sports for kids this age. The Dragonflies class has a stronger focus on skill development without losing any of the fun and excitement. Children will be actively engaged on bars, beam, floor and tumble trampoline along with other fun games and activities. Independent 4 and 5-year-olds will reap benefits for many years to come with the foundation built in our Dragonflies class. This class has an 8:1 ratio of athletes to instructor.