ReB3l Groove Dance Fitness
Achieve Fitness through a structured class, your own workout, or with the help of one of our personal trainers while your child takes a class in a gym below, we are here to help you maintain your own wellness. 60 is the new 40 is only mentioned by those that get off the couch, find your favorite way to stay active, mobile, and lead a healthy lifestyle. We are here to help. Classes and programs for all ages from the serious athlete looking to improve speed and agility to those just trying to keep moving! A healthy mind and body await, let us help you, Achieve Fitness.
achieve fitness program
Achieve Fitness was primarily established to provide a workout area for our dedicated staff and the opportunity for our upper level athletes to train and rehab as needed for their gymnastics experience.
Achieve Fitness is a small, private workout area.
While your child has fun in the gym, Achieve Fitness allows adult family members to get in a workout! The opportunity to share this space with our Achieve Families so that each member may have a fit for life experience is a part of our philosophy. Please note, Achieve Fitness was never meant to be and is not designed to be an observation area for parents, however the balcony overlook of the fitness area can offer a fun perspective while you get a solid workout in. We hope that you enjoy this space and it will help you Achieve your fitness goals!
Available Equipment
Recumbent Bike
Precor Elliptical
LifeFitness Elliptical
FreeMotion Treadmill
Stretching Machine
Hand weights
Stretching area
2 Stack Multi-function
Body Solid Weight Machine
By entering the facility, participants understand and acknowledge that the use of exercise equipment involves risk of serious injury, including permanent disability and death.
Participants further agree and acknowledge that DBA Sports, Inc.|Achieve Sports is not responsible for property that is lost, stolen, or damaged while in, on, or about the premises.
cost
Participants may pay to use this space in a couple different ways; single use purchase or multi-visit punch card. There are price breaks for the purchase of multiple sessions.
Single Visit Cost: $3
8 Visit Punch Card: $20
20 Visit Punch Card: $40
check in process
Once you have obtained your punch card or have stopped by the desk for single visit access, please sign in at the desk (including completion of a liability waiver form if not already on file).
VERY IMPORTANT: Please check the monitor at the front desk to verify the type of equipment you wish to use is available BEFORE having your card punched! Once you punch in and go upstairs, we cannot undo the punch.
available times for use
The fitness area is available for participants' families during the dates and times of the session(s) or team practices in which your child/ren are participating.
rules for use
• The Achieve Fitness area is available only to adult family members of our participants. The space is not open to children, even if accompanied by a parent.
• The quality and safety of our gymnastics learning environment is our primary focus. As such, any calling out, comments or instruction from parents, or other disruptions from individuals in the fitness area to our participants or coaches in the gym is strictly prohibited.
• Because we will have recreation or team activities taking place in the gym during workout times, please play any audio/video equipment using headphones and keep cell phones in silent mode.
• As a courtesy and for the sake of everyone's good health, please clean (wipe down) equipment after each use. There are disinfecting wipes available in a dispenser in the fitness area.
• Workout towels are available for use while in the facility. Please place used towels in the hamper when done.
• Due to the upper level location, this area is often warmer than the rest of the gym or public areas. Please feel free to utilize the large fan as necessary, but we request that the last person upstairs turns it off.
Please report any cleaning or maintenance issue to the Front Desk staff right away.
directions
Check front desk monitor / sign in sheet for space availability
Verify waiver on file
Sign inPunch card (or single prepay)
Enjoy workout!
Wipe down equipment used
Sign out
Enrichment –
UpBeat Barre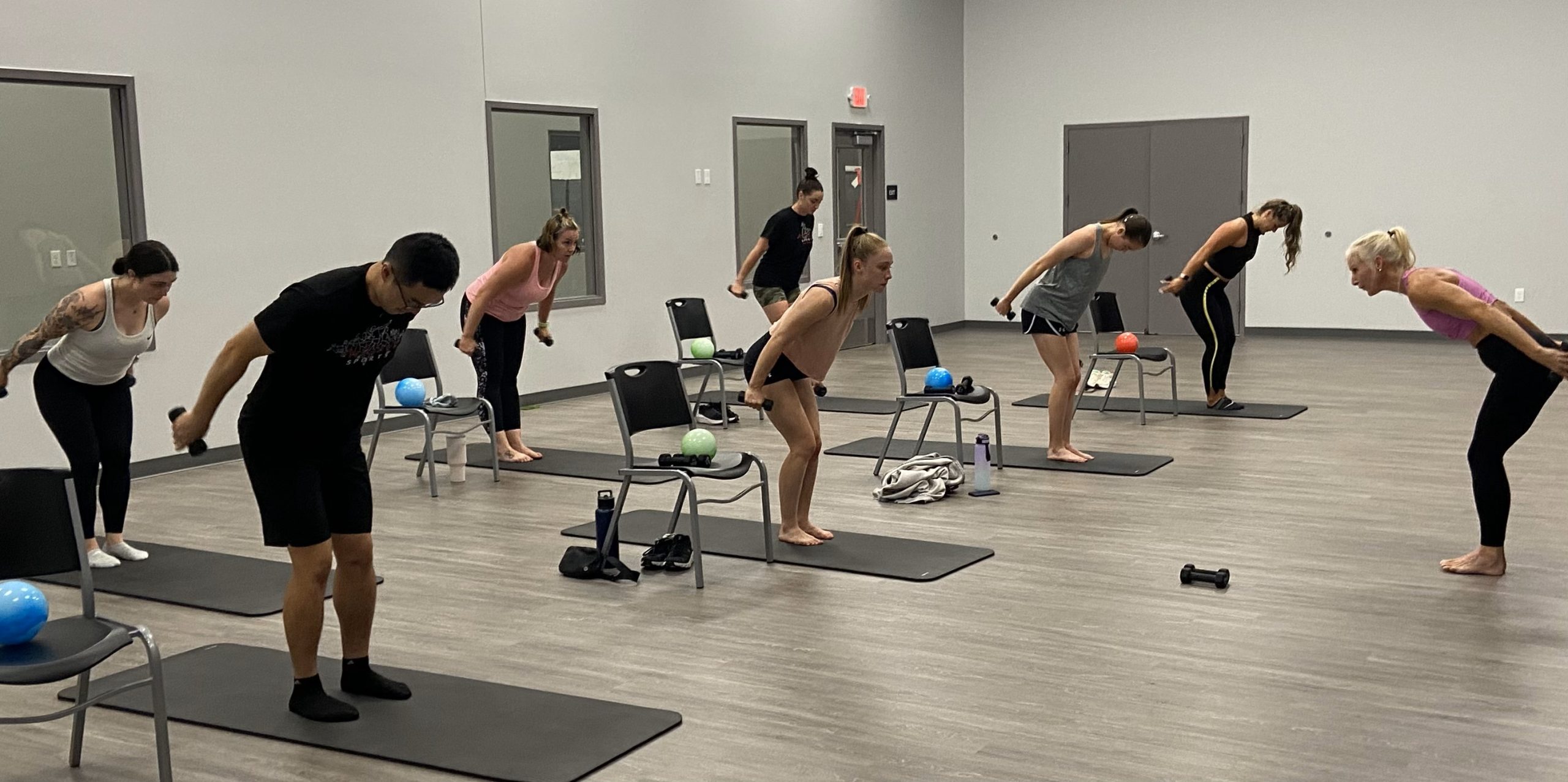 UpBeat Barre is a low-impact, barre-inspired, muscle endurance workout set to music. The music drives the movement to better motivate you to push harder while keeping it FUN! Bring a water bottle and towel.
Registration spots are limited! Contact the Front Desk to get registered.
Enrichment –
Reb3l Groove Dance Fitness
REB3L Groove uses hard hitting, easy to follow bold choreography set to powerful and inspiring music resulting in a HIIT style dance fitness format. Bring a water bottle and hand towel.
Registration spots are limited! Contact the Front Desk to get registered.