If you think pickleball is only for senior citizens, think again. More than 3 million people play pickleball in the United States, and they're all of different ages and skill levels! A 2-4 player game played on a court with rackets, pickleball has numerous health benefits and offers a great way to socialize. Standalone games last just 15 minutes! You can start playing pickleball by visiting a recreational center for courts, lessons, and a league!
Achieve Sports is an athletic center—based in Aurora, CO, and open to residents of the Denver Metro Area—which boasts pickleball courts, volleyball courts, and other equipment from the world of sports. We encourage members of all ages to participate in court sports, turf sports, gymnastics, and specialized lessons. Contact us at (720) 330-2200 to learn more about our recreational sports services!
Below, we discuss why pickleball is perfect for any age:
Immense Health Benefits
Who wouldn't benefit from staying active, getting their heart rate up, and working out? Pickleball provides exercise for the mind, body, and soul. The list of mental health benefits from playing pickleball includes:
Anxiety relief

Decreased symptoms of depression

Tension relief

Better sleep and relaxation
Getting outdoors and meeting up with friends can help you beat the seasonal depression and loneliness that might creep up in the colder months. According to a study conducted on middle-aged adults and older, playing pickleball multiple times per week improved blood pressure and cardio fitness.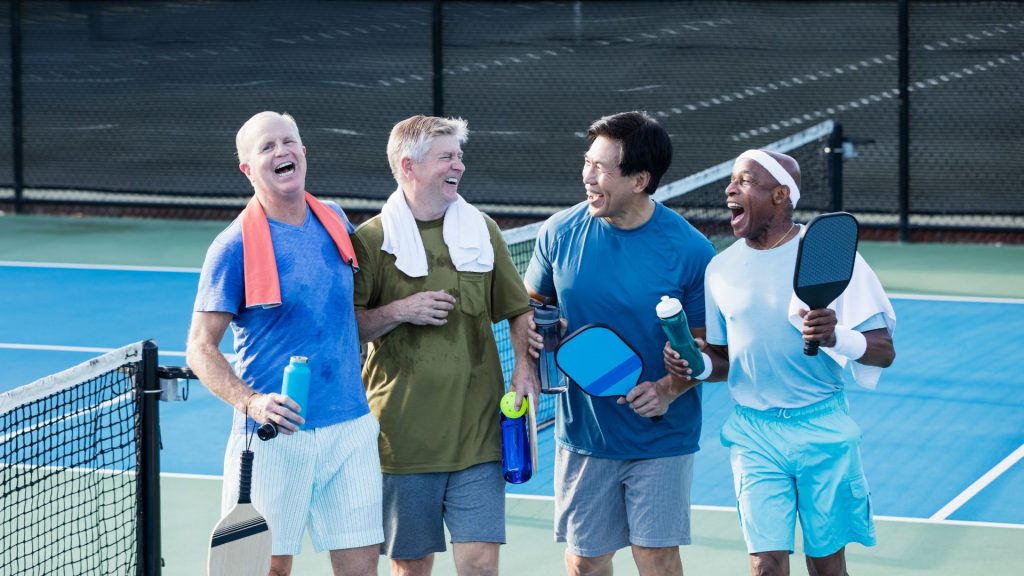 A Social Sport
Unlike running and biking, pickleball is an exceptionally social sport. It requires multiple players, and pickleball fans tend to stick together so they can meet regularly to play. The game's mixed demographics constantly pull people in—it suits young kids burning off some steam, parents unwinding, and elderly adults making new friends.
Moreover, pickleball is amenable to leagues, which allow people to come together in large groups and share their love of the sport. No matter your age, you will have opportunities for social interaction—what better way to get to know people than by bonding over shared interests?
Affordable Gear
The further individuals get involved with a sport, the more expensive their hobby becomes. Purchasing equipment, workout clothes, or the latest specialized gear can rack up costs quickly.
However, pickleball is an exception. Access to municipal pickleball courts is free, and league play is cheaper than other racquet sports like tennis. The gear is affordable: a pickleball paddle and ball coming out to just $30! Moreover, pickleball doesn't necessarily require a pickleball court—though Achieve Sports has 4 indoor courts where teams can play at a low cost.
Quick Play Time
Lastly, pickleball doesn't take up much time. We all have a million things to do— school work, a typical 9-to-5, caring for kids—we get it! Yet a single pickleball match is typically 15 minutes long.
Pickleball goes for many rounds, as players like the challenge of repeated matches. You don't have to be a sports junkie to enjoy a quick match between meetings or after running errands.
Moreover, learning how to play pickleball won't take up much time. With Achieve Sports, you can pick up the game in as little as 30 minutes. Learning pickleball has never been easier than now, as Achieve offers introductory classes, clinics, and a league to play in.
Denver Metro Area Residents Can Play Pickleball Like a Pro at Achieve Sports!
Pickleball isn't just for people over 50. Anyone who wants to get in shape and meet like-minded people can learn and play pickleball in no time. Achieve Sports has been a community leader in sports training for over 30 years, and our recreation center in Aurora provides Denver Metro Area residents with a place to have fun and challenge themselves. To learn more about the fastest-growing community sport, contact us at (720) 330-2200 today!